Pen Bodies
Retractable
All of these fit the standard Pilot G2–style retractable refill, so you can put pretty much any ink and width in them, including my current pick for black, the Uni-Ball One.
Sarasa Grand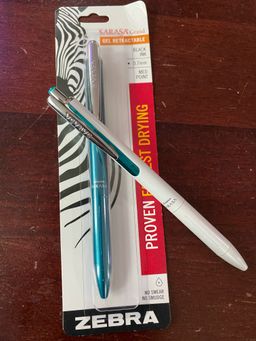 My current favorite gel pen body is the Sarasa Grand. They're made of brass, which gives them a solid heft. I go with the standard ones, rather than the Vintage, just because I'm not a fan of gold tones on the clips. (Though the bordeaux purple body is quite appealing.)
Typically these come with 0.7mm refills that I toss immediately for being too wide. Sarasa also isn't high on my list of gel inks anyway.
EnerGel Clena
I'm a sucker for the retro-ish stylings of these. Good click action, too.
EnerGel BL407
These are metal, which I like, but they're not nearly as heavy as the Sarasa Grand, which is too bad. I like that they come in purple.
They're notable, however, for having an incredibly chonky click to them. It's got a lot of recoil. It's fun.