Favorite Gel Pens
Last Updated:
Black Ink
My favorite black gel pen is the 0.38mm Uni-Ball One. The black is really really dark. It floats off the page. It writes smoothly, dries quickly, and holds up to water very well and highlighters pretty well.
Even though I keep trying other pens, for a black gel ink this is the one I'm always coming back to.
I tend to use the Uni-Ball One refill in a Sarasa Grand body because I like the weight of the brass.
Alternatives
If you need something that's bulletproof against highlighters, pick Zebra's Sarasa Mark On. You compromise on the color for sure, but it holds up incredibly well to all sorts of fun markers, including Zebra's appealing Mildliners.
If you need something erasable, there's always the FriXion (I like the 0.4mm Knock), but the black is really just a dark gray. I'd recommend using the blue-black instead. It's very pleasant.
Color Ink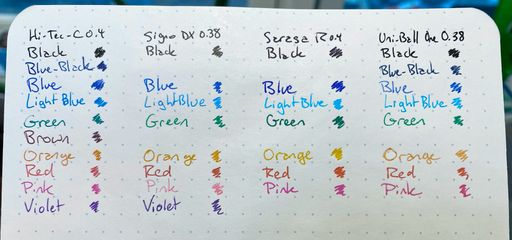 I go back-and-forth between the Hi-Tec-C and the Signo DX.
My primary use for colored pens is as dividing lines, underlines, and other embellishments. I don't like to try and use different colors for different words because that adds friction to writing in a journal. I'd rather be able to do all writing in one color, and then go back later when I have all my pens and highlighters to brighten it up.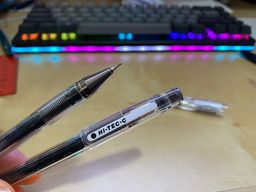 The Hi-Tec-C's aesthetic is so appealing to me. There's the little needle point, the molded ridges in the pen body. The satisfactory way that the cap clicks on and off. I even like the shape of the clip.
I think it's slightly more studdery than the Signos though, and less water-resistant.
There's also more to say about their respective multi-pen solutions, the Hi-Tec-C's Coleto and Uni's Style Fit. Having a multi-pen is useful when you want to use different colors for different types of grid lines or underlines.
Honorable mention to Pilot's erasable FriXion pens. When I'm trying out new layouts I'll often draw and start using them in FriXion first. That way I can erase them and re-design as I work with them.
Disappointments
The Uni-Ball One's black is so good but the other colors are fairly poor performers, at least at 0.38mm. The ink comes out inconsistently. You can see this most prominently in the "Blue" lettering above.

The colors of the new Sarasa R pens are gorgeous and smooth but the water resistance is relatively low. It's terrible for the black in particular. And, with nicer paper than the Field Notes, all of the colors have prominent feathering.